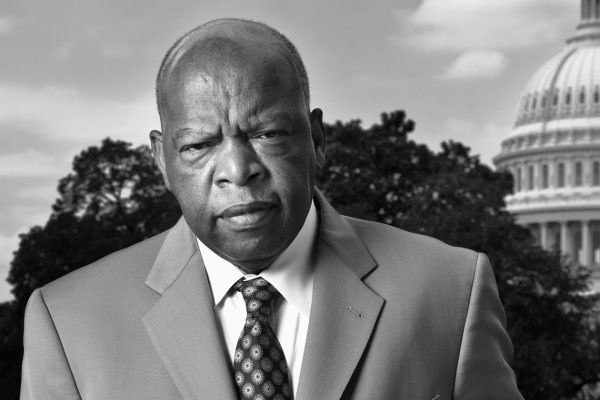 Rep. John Lewis
U.S. Representative, Georgia's 5th congressional district
John Lewis is the U.S. Representative for Georgia's 5th district and an American icon known for his role in the civil rights movement.
He first joined the movement as a seminary student in Nashville, organizing sit-ins and participating in the first Freedom Rides, which challenged illegal segregation at bus stations across the South. He soon became the chairman of the Student Nonviolent Coordinating Committee (SNCC) and one of the "Big Six" national leaders of the movement, alongside such figures as Martin Luther King, Jr. and A. Philip Randolph. As SNCC chairman, Lewis was an architect of, and the youngest featured speaker at, the historic 1963 March on Washington, and was a key figure in the 1964 Mississippi Freedom Summer. Together with Hosea Williams, he led the landmark "Bloody Sunday" March in Selma, Alabama, where police brutality spurred national outrage and hastened passage of the Voting Rights Act of 1965.
Despite physical attacks, serious injuries, and more than 40 arrests, John Lewis has remained a devoted advocate of the philosophy of nonviolence. His subsequent career has included voter registration activism, service on the Atlanta City Council, and over 25 years in Congress. Lewis was awarded the Medal of Freedom by President Barack Obama in 2011, and was the first recipient of the John F. Kennedy "Profile in Courage" Lifetime Achievement Award.
Now, in collaboration with Andrew Aydin and Nate Powell, he has created March, a #1 New York Times bestselling series of graphic novels. March received the 2016 National Book Award for Young People's Literature, and has been honored by the Robert F. Kennedy Book Awards and the Coretta Scott King Book Awards, among many others. March has become a runaway success with institutions and individuals, who have celebrated the series even at Comic-Con, where Congressman Lewis dressed in costume as himself and led a crowd of students in a commemorative march. Perhaps most importantly, schools and universities nationwide have embraced the project, making John Lewis's story a must-read for young people across America.