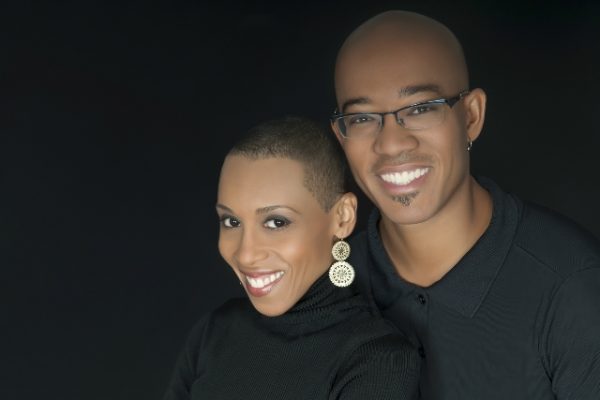 Andrea Davis Pinkney and Brian Pinkney
Award-winning bestselling author of numerous books for children and young adults
Andrea Davis Pinkney is the New York Times bestselling and award-winning author of numerous books for children and young adults, including picture books, novels, works of historical fiction and nonfiction.
Her books have been awarded multiple Coretta Scott King Book Awards, Jane Addams Children's Literature Honor citations, the Boston Globe/Horn Book Honor medal, as well as several Parenting Publication Gold Medals, and American Library Association Notable Book citations.  Ms. Davis Pinkney was named one of the "The 25 Most Influential People in Our Children's Lives" by Children's Health Magazine, and is among The Network Journal's "25 Most Influential Black Women in Business." She was included in Good Housekeeping and Women's Day magazines' "50 Over 50 Extraordinary Women," and was named among L'Oreal's "10 Women Who Light Up the Arts Scene."
Ms. Davis Pinkney is a four-time NAACP Image Award nominee, and recipient of both the Regina Medal and the Arbuthnot Honor Award, for her singular body of work and distinguished contribution to the field of children's literature. Additionally, she is a New York State Writers Hall of Fame inductee.
She has served on the creative teams for several theatrical and audio productions based on works for young people, including those drawn from her acclaimed books, Martin Rising: Requiem for a King, The Red Pencil, and Rhythm Ride: A Trip through the Motown Sound. Additionally, Ms. Davis Pinkney is the librettist for the Houston Grand Opera's The Snowy Day: An Opera for All, an opera for all ages, based on the beloved bestselling children's picture book classic The Snowy Day by Ezra Jack Keats.
In addition to her work as an author, Ms. Davis Pinkney has had an illustrious career as a children's book publisher and editor. She is currently Scholastic Vice President, Executive Editor, a role in which she has acquired and published a robust mix of titles by authors such as Christopher Paul Curtis, Patricia Polacco, Allen Say, Sharon G. Flake, and Lois Lowry.  She has edited works by Toni Morrison, Henry Louis Gates, Jr., and Walter Dean Myers.
During the course of her career, Ms. Davis Pinkney has launched many high-profile publishing and entertainment entities, including Disney Publishing's Jump at the Sun imprint, the first African-American children's book imprint at a major publishing company; the hugely popular Cheetah Girls series, and the teen book Serving from the Hip by world-class tennis pros Venus and Serena Williams, an Oprah featured selection. Ms. Davis Pinkney is a graduate of Syracuse University's Newhouse School of Public Communications.
As a child, Brian Pinkney loved drawing pictures on every piece of paper he could find. He also loved watching his father, Jerry Pinkney, illustrate books for children. Brian couldn't wait to grow up and do the same thing.
Today Mr. Pinkney is a New York Times bestselling illustrator who has illustrated numerous books for young readers, including two Caldecott Honor Books, The Faithful Friend by Robert D. San Souci and Duke Ellington by Andrea Davis Pinkney, his wife and frequent collaborator.
Mr. Pinkney has been awarded the Coretta Scott King Honor Award for illustration on three occasions, and the Coretta Scott King medal for In the Time of the Drums by Kim Siegelson. He is a five-time NAACP Image Award nominee, the recipient of many American Library Association Notable Book citations, and he was acknowledged by National Council for Teachers of English for his vast contribution to the field of children's literature.
Mr. Pinkney's recent illustrated books include Martin Rising: Requiem for a King by Ms. Davis Pinkney. Additional recent works include In Your Hands by Carole Boston Weatherford, and Let's Clap, Jump, Sing, and Shout by Patricia C. McKissack.
Not only is Mr. Pinkney a visual artist. He is also a writer who has authored several acclaimed picture books based on his own experiences and interests  —  books such as The Adventures of Sparrowboy, winner of the Boston Globe/Horn Book Award, Max Found Two Sticks, hailed by The Horn Book as one of the classic children's books of all time. On the Ball, Cosmo and the Robot, and JoJo's Flying Side Kick. His books have been translated into several languages, thus reaching a broad and diverse mix of children.
As a fine artist, Mr. Pinkney's paintings are exhibited vastly in museums and select gallery showings, and they are also part of many distinguished private collections.
Mr. Pinkney was named among the "25 Most Influential People in our Children's Lives" by Children's Health magazine. He has served on the faculty in the Master's Degree of Illustration department at the School of Visual Arts. He is a former chairperson for the Society of Illustrators Original Art Show.