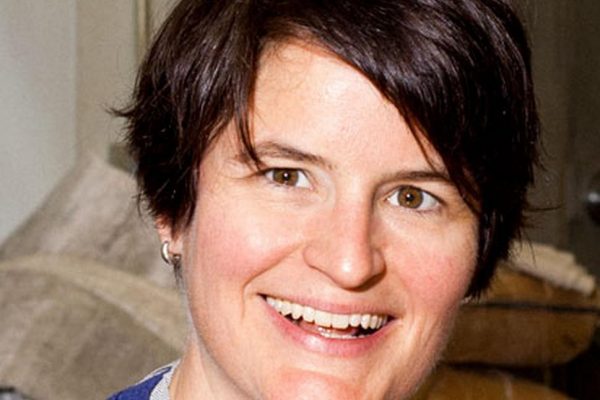 Ellen King
Head Baker and Co-Owner, Hewn Heritage Baking
With a combined passion for history, heritage grains, and baking, ELLEN KING is the Co-Owner and Head Baker at Hewn, a bakery located in Evanston, IL creating hand-forged artisan bread. The journey to opening Hewn began after King welcomed her son Asher and moved back to Illinois in 2009. While staying at home with Asher, King filled the air of her Evanston condo with the smell of freshly baked bread made with heritage grains. Word got out in the neighborhood about King's airy, light creations, prompting her to start the Underground Bread Club. She would bake all morning, strap Asher on the back of her bike, and ride around town dropping off loaves to her members. It was through the Underground Bread Club that King met her now business partner, Julie Matthei, and Hewn opened its doors in Evanston in June of 2013.
Recognized in The New York Times, Saveur, Chicago magazine, Forbes, and other notable publications, Hewn has also been featured as the Best Bakery in the Suburbs in 2018 by Make It Better and as one of Time Out Chicago's 100 Best Dishes in Chicago 2017. King has appeared on WGN's nationally syndicated "Lunchbreak" segment, FOX Good Day Chicago, ABC-7's Hungry Hound with Steve Dolinsky, among others. To further the mission of revitalizing the grain economy, King has been a guest speaker and panelist at a number of conferences, including the Fancy Food Show, Women Chefs and Restaurateurs National Conference, Agricultural History Society, Maine Grain Alliance's Kneading Conference, and more.
A classically trained chef, King attended the Seattle Culinary Academy where she was awarded the Les Dames d'Escoffier 2003 scholarship, and she holds an MA in American History from the University of Maine, and a BA in History from St. Norbert College. Before opening Hewn, King worked in various restaurants in Seattle with a specialty in French, Mediterranean and Vegetarian foods, served as the artisan cheese buyer for Whole Foods in Bellevue, WA, and spent time at Quillisascut Farm School, a sustainable farm school in Rice, WA, where she first learned to bake bread in a wood fired oven.
King is a member of Women Chefs and Restauranteurs, the Bread Bakers Guild of America, Les Dames d'Escoffier, and the Illinois Restaurant Association.