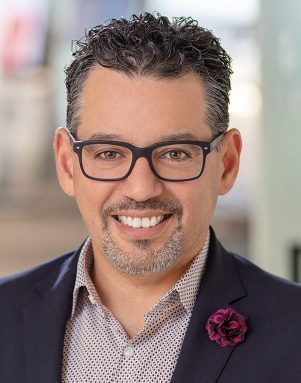 Manuel Cuevas-Trisán
Vice President and Chief Human Resource Officer, Northwestern University
Manuel Cuevas-Trisán became Vice President and Chief Human Resource Officer of Northwestern University in December of 2019. In this capacity, he provides University-wide strategic leadership for human resources practices and policies, Talent and Leadership Development, Total Rewards, Benefits, HR Operations, Payroll & Tax, Talent Acquisition, Learning, and Employee/Labor Relations.
Prior to joining Northwestern, he had a successful career as in-house employment counsel at Chicago-based Motorola Solutions in roles of increasing responsibility, culminating in his combined role as lead employment counsel and Chief Human Resources Officer. His CHRO tenure at Motorola Solutions marked a period of remarkable transformation of the company's business model and focus—from communications hardware and devices, to mission-critical services and software solutions for public safety and enterprise customers.
Under Manuel's leadership, Motorola's Human Resources repositioned itself as a leader in talent development and acceleration. At the BoD level, Manuel made senior leadership succession a priority and executed C-level and officer-level succession plans at multiple levels. He spearheaded the launch of "People First Academy", an award-winning platform to develop line managers' leadership capabilities. As part of his talent strategy, he shifted the collective orientation of High-Potential programs into a model based on individualized talent interventions, while embedding inclusion and diversity principles in all stages of the employment life-cycle.
Prior to joining Motorola as Employment Counsel in 1998, Mr. Cuevas-Trisán worked at the Puerto Rico law firm of McConnell Valdés and served as judicial clerk at the Puerto Rico Court of Appeals. He received his B.A., magna cum laude, from the University of Notre Dame, and earned his J.D., cum laude, from the University of Puerto Rico, School of Law. He obtained Information Privacy Professional (CIPP) and Information Privacy Manager (CIPM) certifications from the International Association of Privacy Professionals in 2011 and 2013, respectively. In November of 2019, Manuel earned a Master's Degree in Executive Coaching & Leadership from Universitat de Barcelona/OBS.