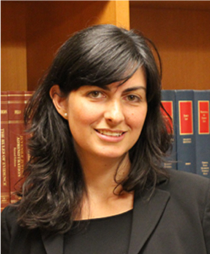 Maria Hawilo, JD
Distinguished Professor in Residence, Loyola University Chicago School of Law.
Prof. Hawilo formerly served as Clinical Assistant Professor of Law in the Bluhm Legal Clinic at Northwestern Pritzker School of Law. Since becoming a lawyer in 2003, she has defended indigent clients in various state and federal systems facing serious criminal charges, and extensive prison sentences, up to and including lifetime imprisonment. Ms. Hawilo is a noted trial and appellate advocate, having successfully represented and litigated complex cases. Her teaching and research interests focus on the juvenile justice system, and its vast overreach and disparate impact on African-American and Latinx youth. She received a BS in biopsychology and neuroscience, cum laude, from the University of Michigan, and a J.D., magna cum laude, from the University of Michigan Law School.
Prof. Hawilo interviewed FAN speaker, Emily Bazelon for her talk, Charged: The New Movement to Transform American Prosecution and End Mass Incarceration, on September 26, 2019, at Evanston Township High School.