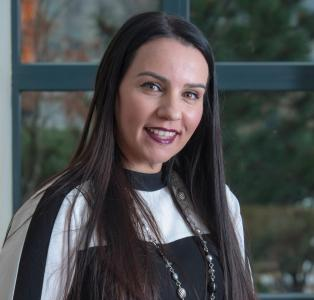 Maru Torres-Gregory, J.D., Ph.D., LMFT
Core Faculty, Marriage and Family Therapy Program, The Family Institute at Northwestern University
Maru Torres-Gregory, J.D., Ph.D., LMFT is a Core Faculty member of the Marriage and Family Therapy Program at The Family Institute at Northwestern University. Dr. Torres-Gregory is a licensed marriage and family therapist with extensive experience working with couples, adults, young adults, adolescents, and families. In her practice, she assists clients struggling with individual and interpersonal issues arising from couple/marital distress, self-confidence, perfectionism, body image, disordered eating, self-harm, cultural differences, among others.
In addition to her clinical work, Dr. Torres-Gregory has a passion for training future marriage and family therapists. She has served as a clinical supervisor and faculty instructor in the Master of Science in Marriage and Family Therapy Program for over eight years. Additionally, Dr. Torres-Gregory supports post-doctoral fellows in expanding and deepening their clinical experience through supervision of their clinical work.
Dr. Torres-Gregory has clinical experience in diverse settings — private practice, in-patient and community — and has facilitated both therapeutic and support groups. In addition, she has lectured on various topics such as coaching parents through their children's emotional breakdowns, sibling rivalry, diversity sensitivity training, working in community settings with culturally diverse populations, difference-sensitive therapy, and on the provision of difference-sensitive supervision of marriage and family therapists in training. Dr. Torres-Gregory has participated in professional panels discussing teen pregnancy and the trauma of incest/abuse/domestic violence, as well as strategies for unlocking career and business growth.
Dr. Torres-Gregory is a weekly guest in Noticias Univision Chicago, Primera Hora, on mental health, relationship and family issues of interest to the Spanish-speaking community in the Chicago area. She also is a regular contributor to their evening newscasts on diverse topics.