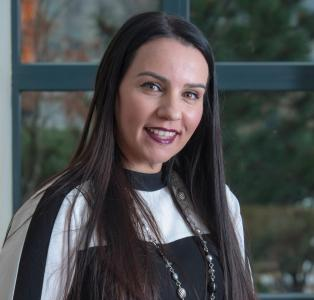 Maru Torres-Gregory, JD, Ph.D., LMFT
Couples and family therapist and faculty member of the Marriage and Family Therapy Program atThe Family Institute at Northwestern University
Maru Torres-Gregory, JD, Ph.D., LMFT is a couples and family therapist and faculty member of the Marriage and Family Therapy Program at The Family Institute at Northwestern University (TFI). Dr. Maru has extensive experience working with couples, adults, young adults, adolescents, and families. In her practice, she assists clients struggling with individual and interpersonal issues arising from couple distress, self-confidence, perfectionism, body image, disordered eating, self-harm, cultural differences, among others.
In addition to her clinical work, Dr. Maru has a passion for training future therapists. She has served as a clinical supervisor and teaching faculty in the Master of Science in Marriage and Family Therapy Program for over a decade, where she also mentors post-doctoral fellows and clinical supervisors in training.
Since 2019, Dr. Maru has been a frequent guest for Noticias Univision Chicago, Primera Hora, their evening newscasts, and now on their recently launched global streaming services on mental health, relationship, and family issues of interest to Spanish-speaking communities.
Dr. Maru is excited about the forthcoming launch of her private practice in Cambridge, MA.