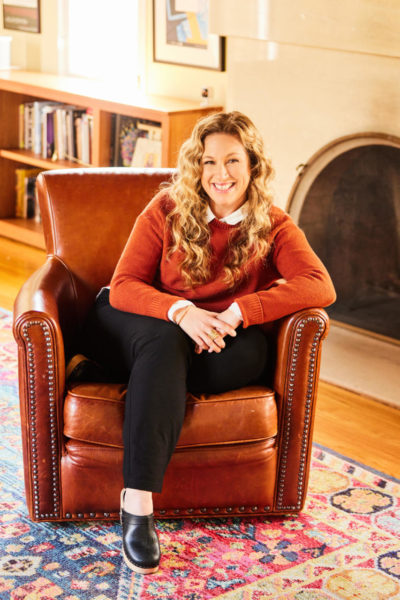 Molly Smith Metzler
Award-winning playwright and screenwriter
Molly Smith Metzler is an award-winning playwright and screenwriter from Kingston, New York. She is the creator, writer, and executive producer of the Netflix limited series Maid, which earned her an Emmy nomination for Outstanding Writing of a Limited Series. Maid was viewed by over 67 million households in its debut month on Netflix and went on to be named a "TV Program of the Year" by the American Film Institute. Metzler and the writing team won the Writers Guild of America Award for Outstanding Writing of a Limited Series–Adapted Long Form, and the show was nominated for three Emmy Awards, three Golden Globe Awards, two Critics Choice Awards, two TCA Awards, The Humanitas Prize, and more.
Before Maid, Metzler spent four years working as a writer/producer on the Showtime show Shameless. She also wrote for Casual (Hulu) and Orange Is the New Black (Netflix). As a playwright, Metzler's plays – including Cry it Out, Elemeno Pea, The May Queen, Carve, Close Up Space and Training Wisteria – have been produced Off-Broadway and across the country, at such theaters as Manhattan Theatre Club (NYC), The Kennedy Center (DC), South Coast Rep (CA), Actors Theatre of Louisville (KY), Northlight Theatre (Chicago), Studio Theater (DC), Echo Theater (LA), City Theatre (Pittsburgh), Geva Theatre Center (Rochester), and many more.
In 2018, her play Cry it Out won the Los Angeles Drama Critics Circle Award for Outstanding Playwrighting and the Steinberg/ATCA New Play Award Citation. To date, the play has had over 100 productions in multiple countries. Metzler is a proud alumna of SUNY Geneseo, where, as a junior, she took her first playwrighting class with Dr. Terry Browne. She also holds an MA from Boston University, an MFA from New York University's Tisch School for the Arts, and an Artist's Diploma from The Juilliard School, where she was a two-time recipient of the Lecomte du Nouy Prize from Lincoln Center. Currently, Metzler is creating a new show for Netflix, where she is under a multi-year overall deal, and finishing a new play for Manhattan Theatre Club.