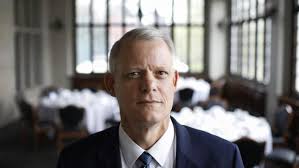 Phil Andrew
Director of Violence Prevention Initiative, Archdiocese of Chicago
Phil Andrew leads the Archdiocese of Chicago's Violence Prevention Initiatives, where he is responsible for all aspects of safety, programs, and partnership. He is also the Principal of PAX Group, a risk preparation, crisis, and conflict resolution agency that enables organizations to maintain confidence, build resilience, and safe environments while growing and achieving better outcomes.
Mr. Andrew has over 20 years of experience as a Special Agent at the Federal Bureau of Investigation. He's served throughout the Midwest, New York and overseas with expertise in crisis negotiation, undercover work, counterterrorism, national security, violence prevention, crimes against children, and social media. He has deployed regularly on domestic and international kidnappings and hostage takings, and he has received numerous FBI and Department of Justice awards.
Prior to the FBI, Mr. Andrew practiced law in Chicago and managed a violence prevention organization. He is a graduate of DePaul University College of Law and the University of Illinois, which he attended on an athletic scholarship, and twice captained the Illini swim team.
Mr. Andrew is a survivor of the 1988 Winnetka shooting in his family's home that followed the tragic shooting at Hubbard Woods School that killed Nicholas Corwin, age 8, wounded 5 of his classmates, and traumatized a community. This was the first mass-casualty school shooting in the U.S.
Ms. Andrew is a recipient of a U.S. House of Representatives Award for Outstanding Courage and Heroism, an Illinois State Bar Association Service Award and is an inductee into Loyola Academy's Athletic Hall of Fame.