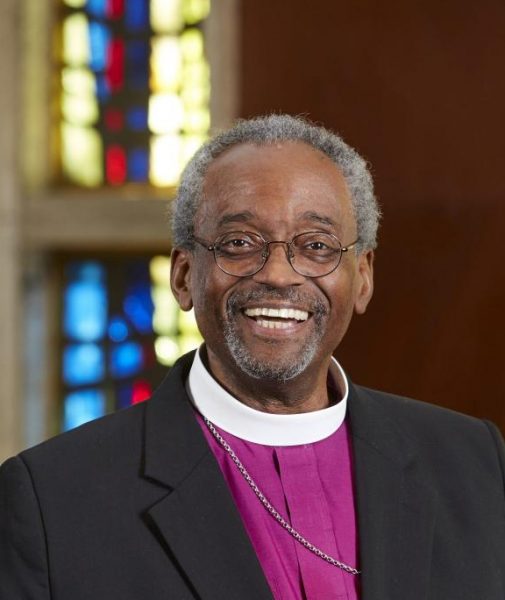 The Most Rev. Michael Bruce Curry
27th Presiding Bishop and Primate of The Episcopal Church
The Most Rev. Michael Bruce Curry is Presiding Bishop and Primate of The Episcopal Church.  He is the Chief Pastor and serves as President and Chief Executive Officer, and as Chair of the Executive Council of The Episcopal Church.
Presiding Bishop Curry was installed as the 27th Presiding Bishop and Primate of The Episcopal Church on November 1, 2015.  He was elected to a nine-year term and confirmed at the 78th General Convention of The Episcopal Church in Salt Lake City, UT, on June 27, 2015. He is the first African-American to lead the denomination, and is a strong advocate for many social justice causes, including immigration, same-sex marriage, and racial reconciliation.
He officiated at the 2018 funeral services for both former President George H. W. Bush and Sen. John McCain, and delivered a stirring sermon at the 2018 wedding ceremony of Prince Harry and Meghan Markle.
The descendant of enslaved Africans brought to North America by way of the trans-Atlantic slave routes,  Presiding Bishop Curry was born in Maywood, IL, on March 13, 1953.  Presiding Bishop Curry's father was an Episcopal priest and his mother was a devout Episcopalian. She died at a young age, and Presiding Bishop Curry, along with his sister, was raised by his father and his grandmother.
Presiding Bishop Curry graduated with high honors from Hobart College in Geneva, NY, in 1975. He received a Master of Divinity degree in 1978 from Yale University Divinity School in New Haven, CT. He has furthered his education with continued study at The College of Preachers, Princeton Theological Seminary, Wake Forest University, the Ecumenical Institute at St. Mary's Seminary, and the Institute of Christian Jewish Studies. He has received honorary degrees from Episcopal Divinity School; Sewanee: The University of the South; Virginia Theological Seminary; and Yale.
He has authored five books: Love is the Way: Holding on to Hope in Troubling Times (2020); The Power of Love (2018); Following the Way of Jesus: Church's Teachings in a Changing World (2017); Songs My Grandma Sang (2015); and Crazy Christians:  A Call to Follow Jesus (2013).
He has authored numerous publications including columns for the Huffington Post and the Baltimore Times.